The Dining Room is based in Middlesbrough and was created in 2009 by Mark and Julia O'Donnell who, along with their team, have built a successful company with a reputation for providing high quality delicious food, served by friendly, professional staff, with an eye for detail and a commitment to great service.
We are made up of a team of highly skilled, passionate individuals that take great pride in what we do. This means that the highest standards of both food quality and service are met each and every time.
The Dining Room recognises the importance of good quality ingredients. We therefore source most of our fresh produce from local, well established butchers, fishmongers, greengrocers.
We approach all events on an individual basis and have gained much experience in delivering a wide range of events from corporate functions, charity dinners, christenings, weddings and private 'home dining' functions.
There's lots of information, menus and prices throughout the site. We try to provide guide prices so you can get a rough idea of cost.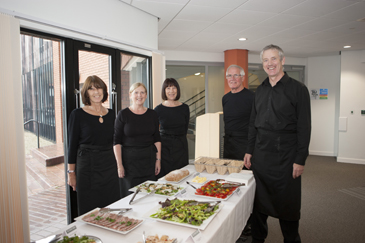 Mandy, Sue, Julia, Bruce and Mark